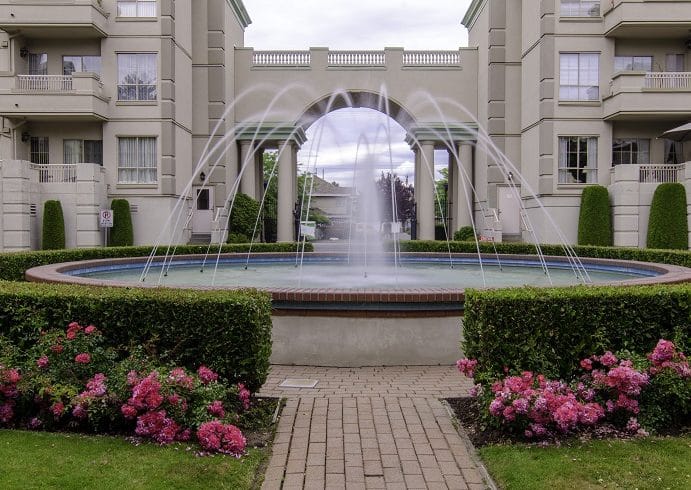 Commercial landscaping is typically a job left to the professionals because it requires a lot of expertise, hard work, and the right equipment to design and implement a landscape that compliments the property and invites residents, customers, or other guests onto the property.
Since we all like to make a good first impression, here are several considerations for landscaping a commercial property.
Assessing the Property's Needs
Before planting bushes, creating flower gardens or putting down new grass it is important to have a master landscape design plan for the property. Commercial landscapers will visit the property and then sit down with you to discuss a plan to create cohesive landscaping for the property.
A commercial landscaper will help you consider questions such as:
Do you want low maintenance plants?
Do you want to achieve a high-end look?
Will children and/or pets be using the landscaped areas?
What areas of the landscaped property have high traffic?
They will make sure that you are happy with the entire plan.
Landscape Design and Selection
After the initial designing is complete, your landscaper will also take into consideration other factors needed to make the landscape perfect. Some of these critical factors include:
Soil
Local weather
Amount of sun per day
Choosing the right plants and other landscaping features to accommodate these factors ensure that your plants will thrive and the property will look great for years to come.
Proper Landscaping and Planting Techniques
When it comes time to do the actual work, commercial landscapers are skilled and experienced in planting new shrubs. For example:
How close should shrubs be planted so they look right once mature and fully grown?
How deep should flower bushes be planted?
How much water do newly planted shrubs and gardens need?
Ongoing Commercial Landscape Maintenance Support
When the landscaping is installed and the work is completed, landscaping maintenance is important to maintain the health of the plants and longevity of other components such as paving stones, retaining walls, bark mulch, and so on.
Your commercial landscape maintenance company can take care of this for you or give you suggestions and techniques to use. Typically, we recommend that the best option is that the professional from the landscape company is hired to check your landscaping once a week.
Hire a Professional Commercial Landscaper
A well landscaped and maintained property attracts and leaves a good impression on clients, residents, guests, and passer-byers. Neighboring properties will also admire your property!
If you are looking for that great first impression, plus a commercial landscape maintenance company who can maintain your beautifully landscaped property for years to come, contact Terra Firma Lawn and Garden.
Our landscape company is headquartered in Port Coquitlam, BC and specializes in commercial landscape design and maintenance throughout the Lower Mainland.