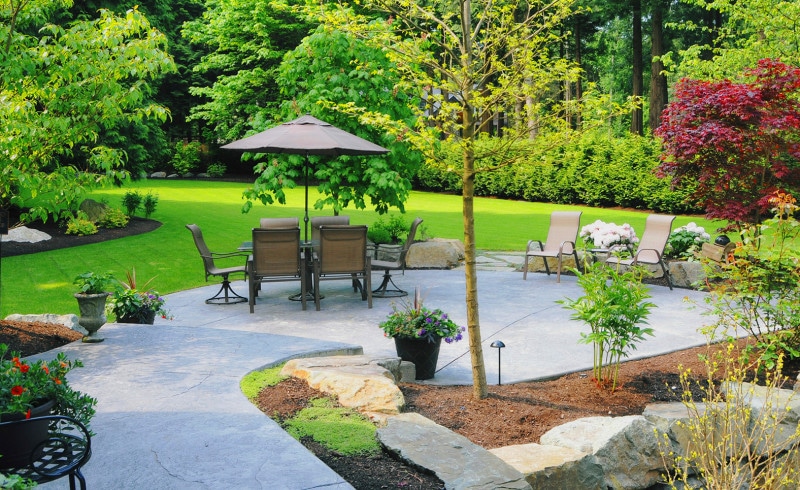 Creating a beautiful home goes beyond designing a great interior; you also need to think about the outside appearance of your home. The landscape design you choose can help to enhance the curb appeal and increase the value of your home. This is the first sight that prospective buyers will see when they visit your home and it is important to create a great first impression. The following tips will help you in your landscape design efforts.
Consider your space
The available space will determine the best landscaping design. It is important to come up with a plan that will make use of this space in the best possible way. You can use bushes to drown out noise from the street and other features to get the best overall effect. Remember to plan the spacing carefully and note that large plants can make a small space look even smaller. It is a good idea to have a mental picture of what you want the end results to look like before you start planting.
Consider your climate
When looking for the best plants for your property, it is a good idea to consider the weather in your region. Look for plants that are ideal for your climate so that you can get the best results. You should also think about the water requirements so that you can get plants that will withstand the weather.
If you do not get a lot of rain in your area, choose drought resistant plants that do not need plenty of water. It is important to note that grass usually needs more water than plants. Installing gravel and other types of ground cover on parts of the lawn can help to save water.
Buy the best plants
It is a good idea to buy plants from a reputable nursery or garden center where you can be sure of the quality. You can also get the best information from gardening experts who know all about the best plants for your region.
Do your homework and learn the best ways to take care of the plants and get the best tips to get rid of pests while ensuring that you use the best mulch and the safest products. If you are on a budget, you can work on the space in phases. Dividing the project into different phases will help you to keep track of the progress and you can make necessary adjustments as you move along.
Consider the neighborhood
While there is nothing wrong with trying to be unique, you should get some inspiration from the neighborhood to avoid sticking out like a sore thumb. No one wants to live in the "weird looking" house on the street and you should try as much as possible to stick within the general theme. Choosing the same plant or tree varieties will help to enhance your property.
Our Coquitlam landscaping can offer advice and detailed consultation that will help you to make substantial savings while creating the best landscaping design for your home. We offer several design choices that are ideal for your property and your location.
Contact us for a FREE quote if you are looking for a landscape designer in Vancouver & area.